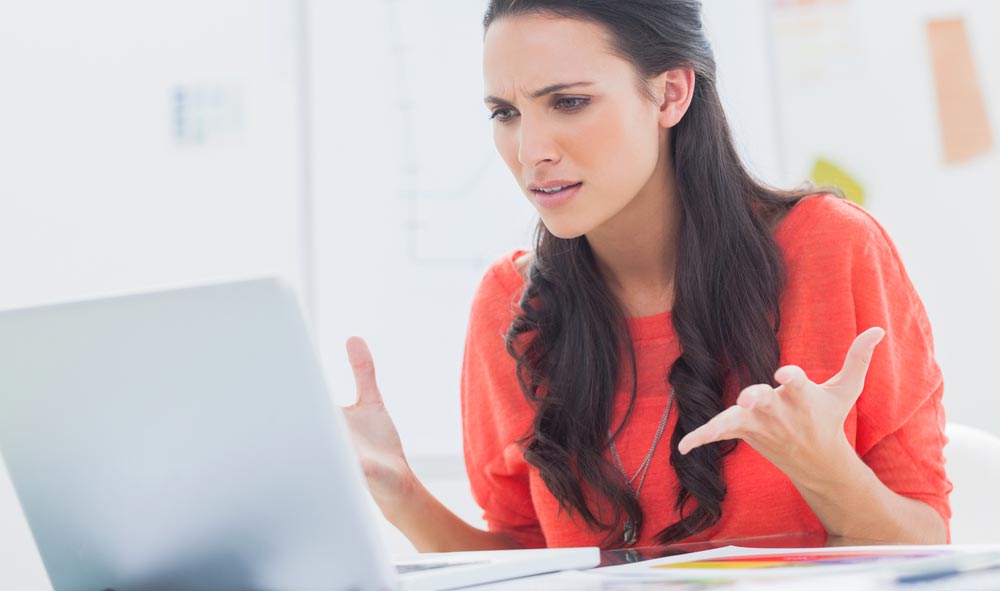 If you run a business, you've likely heard a lot about inbound marketing over the last couple years. Maybe you've even tried to implement a few tactics. If you haven't seen the results you wanted from those efforts, though, it might be due to the following errors, all of which contribute to frustrating, ineffective, or failing inbound marketing efforts. How many of these traps have you fallen in with your marketing campaigns?
Inbound Marketing Strategies: Common Reasons Why a Inbound Marketing Strategy Fails
1. Jumping Into Inbound Marketing without a Adequate Strategy
When people hear about the power of inbound marketing, they often get (understandably) excited. However, if you launch straight into your inbound marketing efforts without adequate forethought and strategy, you could be setting yourself up for failure.
That is, you never want to fall victim to "shiny object syndrome"—where you go after the end goal before laying your foundation of fundamentals.
Don't, therefore, focus on the amazing functionality of the software and create content based on that. Instead, ask yourself these questions:
Who is your business targeting?
Who do you want to connect with?
Where do you want to grow your business?
Once those questions have been adequately answered, you can start to create your buyer personas, around which you will tailor and create your content.
Complete this step first. Buyer personas are the cornerstone of your strategic plan, and failing to think them through contributes to many businesses failing in their inbound marketing efforts.
2. Inbound Marketing Strategies Fail by Not Creating Effective Buyer Personas
Buyer Personas are at the forefront to having success with inbound marketing. You must have a well executed buyer persona strategies in place before you consider creating content. Personas will provided the detailed roadmap for creating highly effective content for your target audience in the marketing and sales process. 
Do the necessary research to create a well-thought-out persona that will help you grow an area of your business that you're particularly interested in developing, expanding, or implementing. 
Ask yourself what will give you the most financial yield, as increasing revenue up front will allow you greater freedom and ability to expand and grow the business down the road.
Than focus on building specific personas based upon your product or service growth model.
3. Creating a Lot of Content: Quantity over Quality
Content is most certainly king right now, but one of the biggest mistakes people make with inbound today is thinking that posting every day without fail will guarantee results.
Yes. Consistency is important when it comes to content, but your first aim should always (always) be quality. Every piece of content you release should be solving your potential customers' problems. If a piece of content doesn't do that or present any real value, don't release it! The harm it can do by undermining your credibility in the eyes of leads far outweighs any advantage from merely ensuring your company puts something into the online space that day.
The bulk production of low-quality content takes a lot of your company's time and effort but yields few results, which can quickly lead to frustration. Focus instead on always releasing the best, most valuable content possible—as often as you can without compromising quality.
Everything you release with your name attached to it becomes a representation of your company. Therefore, if people see low-quality content from you, they are going to assume you're also a low-quality company. 
4. Creating Great Content—That Doesn't Appeal to Your Personas
Most businesses have caught on by now that creating marketing content is not enough. That content needs to be interesting, valuable, educational, and engaging. 
However, what fewer businesses realize is that even creating the most high-quality content can be a mistake—if that content doesn't appeal to your particular buyer personas.
Great content might get eyes on your site. It might get you followers on various social media channels.  But if that content doesn't address the specific questions, needs, and interests of your carefully crafted buyer personas, it's going to be ineffective or much less effective than it should be in terms of revenue.
Your content needs to be great, but perhaps even more importantly, remember that it needs to be great for your potential customer base.
5. Creating Content That Doesn't Engage Your Personas
All your content creation campaigns should focus on how you can best engage with your personas. That doesn't just mean you create content that answers their fundamental questions. (Though, that is a vital part of it.)
It means you need to figure out how to create content your potential customers are excited to consume—and increasingly that means delving into video.
With so many companies catching on to inbound marketing, there is a huge influx of content in the online space. And by and large, that wealth of content is text-based.
Video, however, is more engaging, is more likely to be viewed, and allows you to fit a huge amount of valuable information into a medium that only takes a few minutes to consume.
As inbound continues to evolve, one of the biggest upcoming upsets in the industry looks to be the supplementation of premium content and blogs with education-minded, persona-specific video content.
This generates interest in the information you're looking to disseminate, and it quickly and effectively builds credibility and trust with your potential customers.
Spend some time thinking about these new forms of engaging content and what might be best for your business—podcasts, videos (embedded in site, blogs, e-books, etc.), interactive content, and more.
6. Handing Off Unqualified Leads to the Sales Team 
Once you are generating leads from your content, you have to then know how to nurture those leads. One of the biggest places people fall down here is by handing those leads off to the sales team too early in the sales cycle.
Even though inbound leads do tend to be higher quality, you have to ensure those leads are actually ready to talk to sales representatives. Many times, they are still gathering information and seeking valuable content rather than looking for a sales pitch.
This is why it's crucial that your marketing team and sales team are in full alignment. If they collaborate on the content creation and have an agreement in place about the timing for handing off leads, you can avoid alienating and burning through those leads.
Inbound marketing can be extremely powerful but only when proper strategy and process underpin your entire campaign. If your company has decided to implement inbound marketing and you're going it alone (rather than working with a professional inbound marketing consultant or agency), just remember how many resources are at your disposal.
If this is your first campaign, at least have somebody with inbound experience take a look at your overall strategy to let you know if you're headed in the right direction. Plenty of marketers would be happy to provide this service. There's no harm in asking for guidance, and you might just save yourself a significant amount of time, money, and effort in implementing ineffective or time-consuming methods. Inbound takes time and dedication to yield real results. Don't unnecessarily delay that process by pushing forward with bad or nonexistent strategy.
For more information about how and why inbound marketing efforts fail or for guidance on your initial strategy, please feel free to contact a representative of Brand Fuzion today!